Sprawdziliśmy, jak ŁKS stracił gole w tym sezonie? jakie błędy popełniała drużyna?
ŁKS po siedmiu kolejkach ma 11 punktów, strzelił 11 bramek, a stracił aż dziewięć. Bilans to trzy zwycięstwa, dwa remisy i dwie porażki. Dla porównania, rok temu po siedmiu rozegranych meczach Rycerze Wiosny mieli na koncie 21 punktów za siedem zwycięstw, 20 bramek strzelonych i jedynie cztery stracone. Przeanalizowaliśmy, jak ŁKS traci bramki w tym sezonie,
GKS Tychy – ŁKS 1:1
Rzuty rożne od zawsze stanowiły dla piłkarzy ŁKS-u ogromne wyzwanie. Problemem był niski wzrost większości łódzkich piłkarzy. Średnią zawyżali tylko Maksymilian Rozwandowicz, Maciej Dąbrowski i Adam Marciniak.
Reklama

Marek Kozioł wyszedł do dośrodkowania, ale minął się z piłką. Warto zauważyć, że żaden z piłkarzy ŁKS-u nie przeszkadza czekającym za polem karnym przeciwnikom, co jest błędem.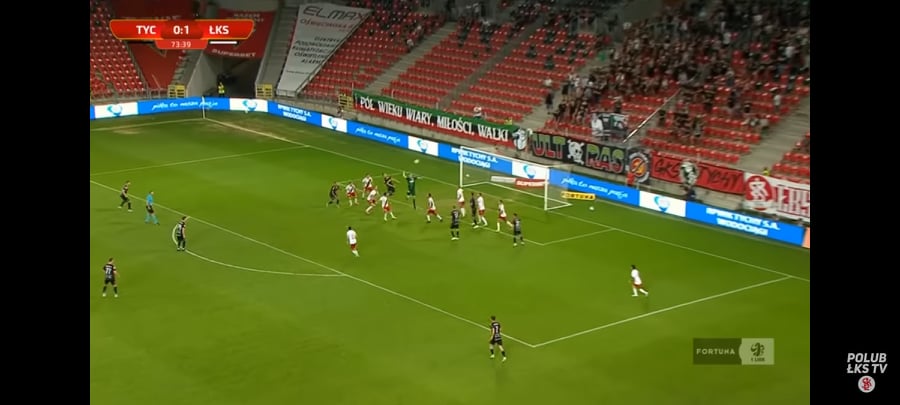 Po tym jak w polu karnym łodzian się zakotłowało piłka spadła pod nogi, czekającego na skraju pola karnego Wołkowicza. Do zawodnika z Tychów podbiega Michał Trąbka, ale już zdecydowanie za późno. Obrońca GKS-u zdążył oddać strzał.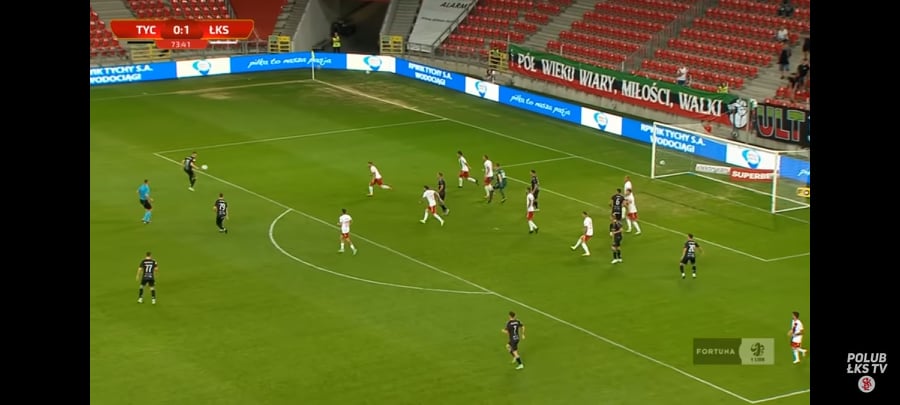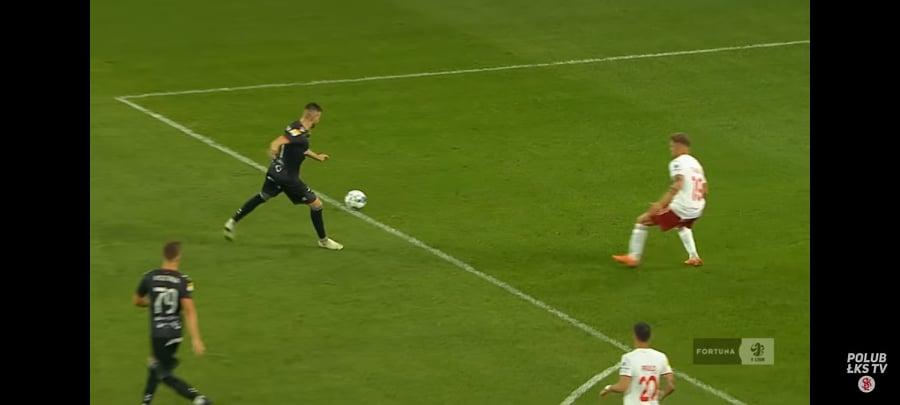 Bramkarz ŁKS-u po wyjściu na przedpole nie zdążył wrócić na swoje miejsce. Sytuację próbuje ratować Adam Marciniak, ale piłka przeleciała nad głową i wpadła do siatki.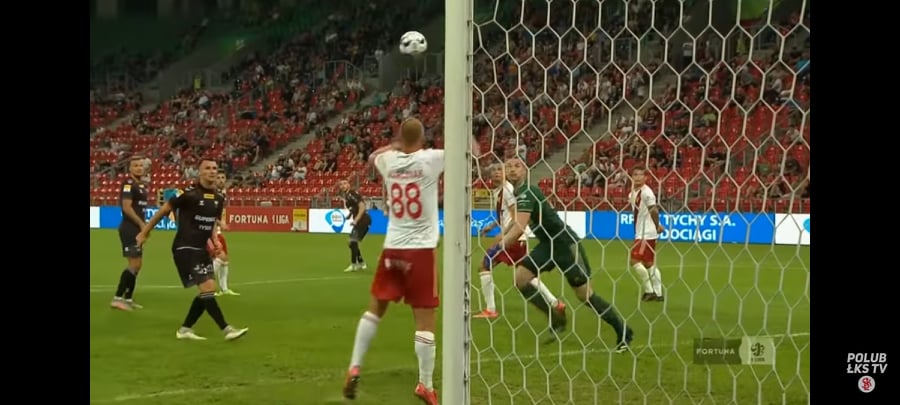 ŁKS – Skra Częstochowa 3:2
Kolejny mecz, kolejna bramka stracona po stałym fragmencie gry. Skra rozegrała krótko rzut rożny. Już w tym momencie, można się zastanawiać, czemu żaden z piłkarzy ŁKS-u nie ruszył, za zawodnikiem z Częstochowy.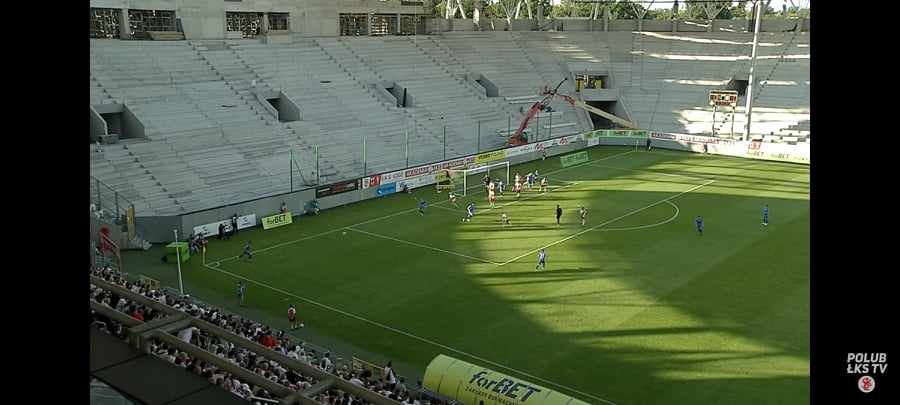 Piłkę udało się wybić, ale nie było nikogo, kto byłby w stanie ją przechwycić. Piłkarz Skry ma cały prawy sektor boiska dla siebie.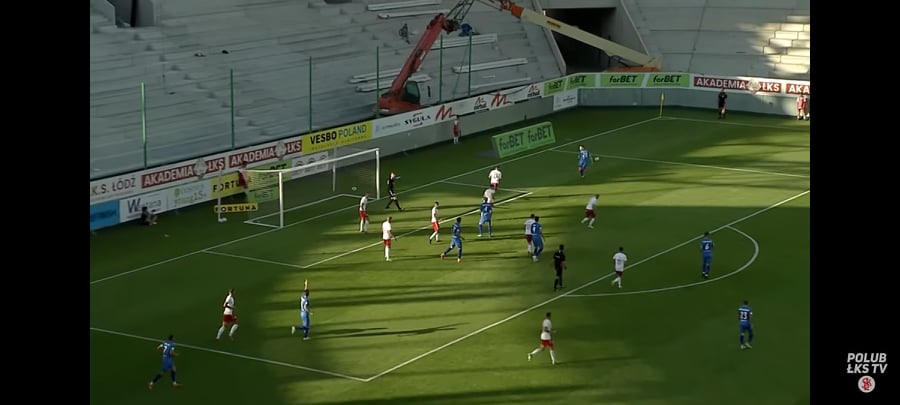 Jeden z piłkarzy ŁKS-u stara się zatrzymać zawodnika Skry, ale jest już za późno. Na tym obrazku warto zwrócić uwagę na Adama Mesjasza (numer 4 w niebieskiej koszulce).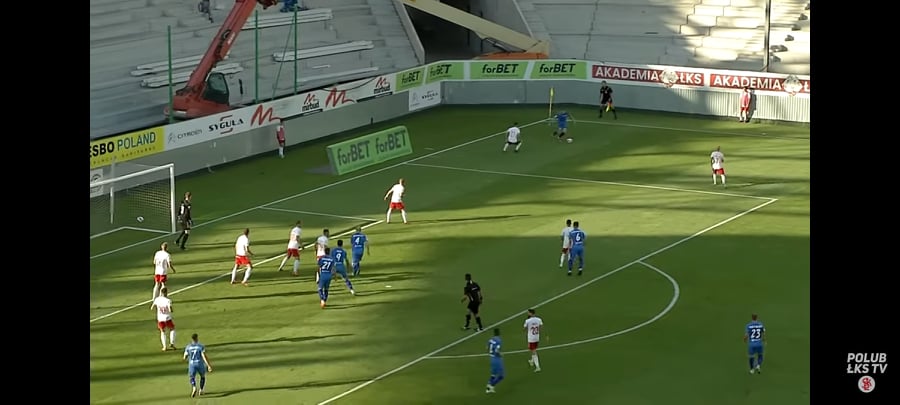 Adam Marciniak stara się zastawiać Mesjasza. Obrońca Skry wyskakuje do główki i pada bramka. Patrząc na poprzedni obrazek, widzimy jaki dystans, zawodnik z Częstochowy był w stanie przebiec w polu karnym ŁKS-u.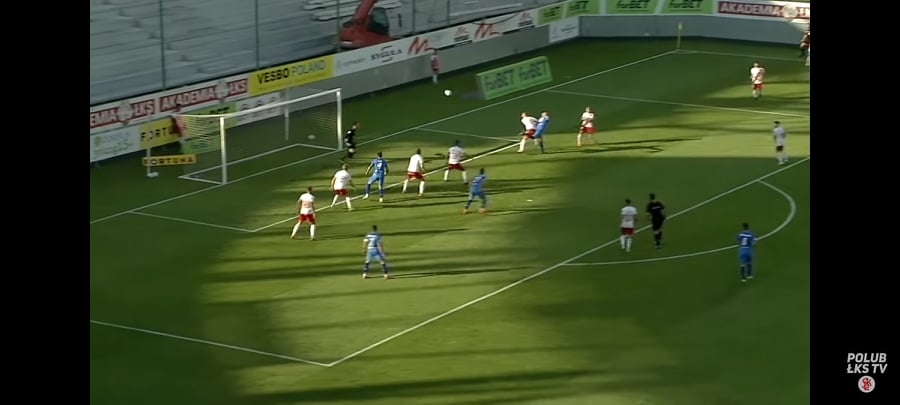 Druga bramka Skry
Drugą bramkę ełkaesiacy strzelili sobie sami. Festiwal błędów zaczął się jeszcze przed polem karnym, a zakończył po tym jak piłka wpadła do bramki. Łodzianie robili wszystko, żeby przypadkiem nie przeszkodzić rywalom.
PIłkarz Skry z numerem siódmym, sprytnie przerzuca piłkę na skrzydło. Broniący, lewej strony boiska zawodnik ŁKS-u jest spóźniony ze swoją interwencją i podanie dociera do adresata.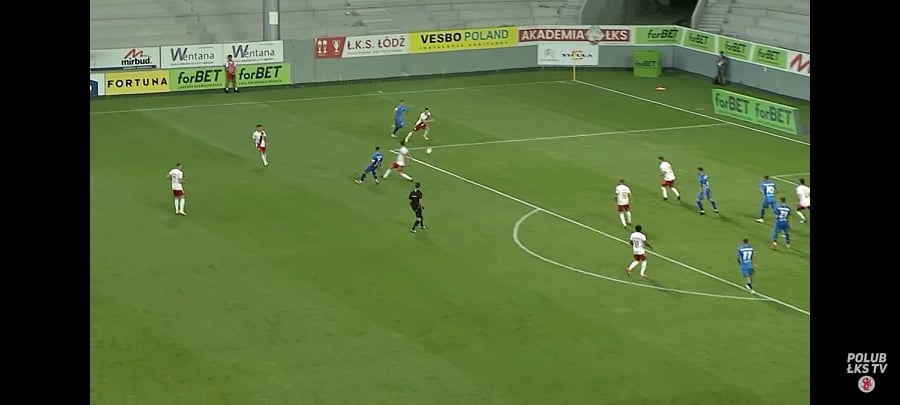 Skrzydłowy Skry wstrzelił piłkę w pole karne, bo obrońcy ŁKS-u zostawili zawodnikom Skry mnóstwo miejsca.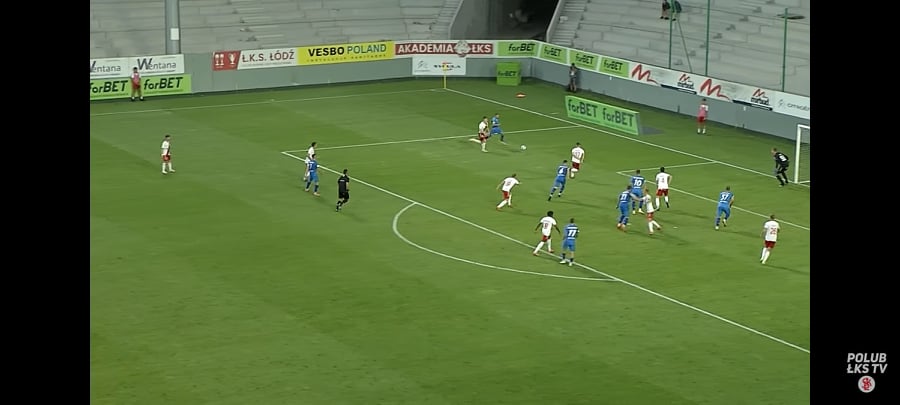 Znowu zamieszanie, czterech piłkarzy próbuje wyłuskać sobie piłkę spod nóg. Na tym obrazku ważne jest, że w lewym górnym rogu zawodnik ŁKS-u stoi za bramkarzem i łamie linię spalonego,
Zawodnik Skry dostaje piłkę pod nogi i wychodzi sam na sam. Obrońcy ŁKS-u sygnalizują spalonego, którego nie może być, bo piłkarz w lewym rogu łamie linię. Pada bramka dla częstochowian.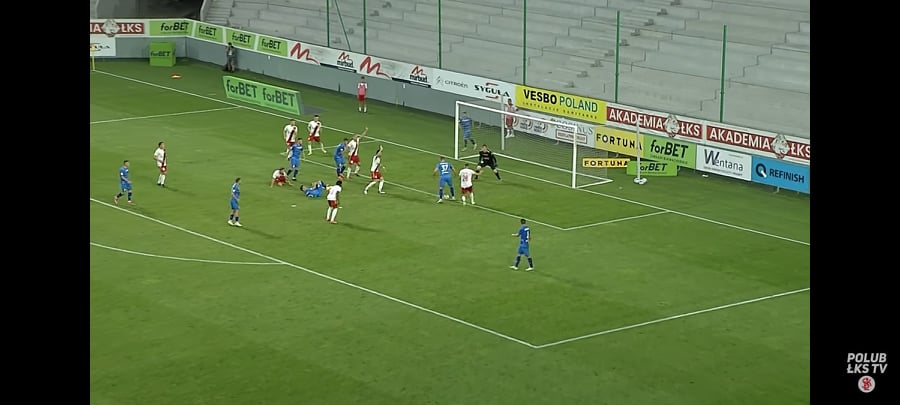 ŁKS – GKS Jastrzębie 2:2
Pierwszą bramkę ełkaesiacy stracili po akcji podobnej jak ta GKS-u Tychy. Znowu piłka spadła pod nogi niepilnowanego zawodnika, który uderzył z dystansu.
Piłkarz GKS-u Jastrzębie wysokim podaniem stara się wstrzelić piłkę w pole karne.
Obrońca ŁKS-u przegrywa pojedynek powietrzny i piłka spada pod nogi Ferugi.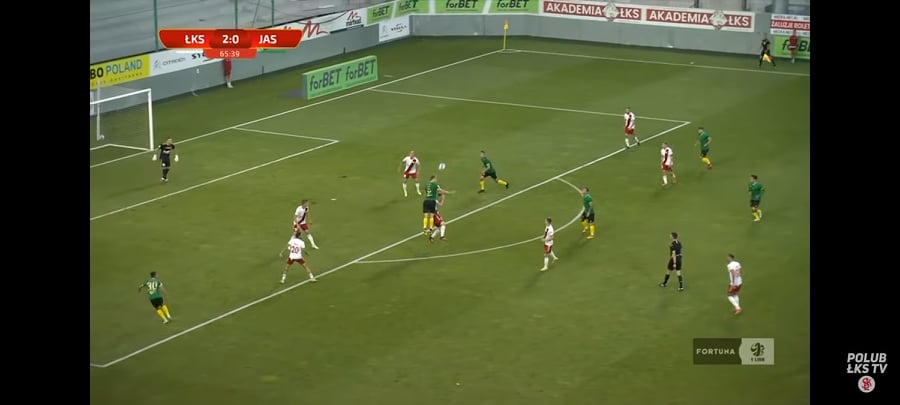 Niepilnowany Feruga uderza z woleja i pokonuje Dawida Arndta.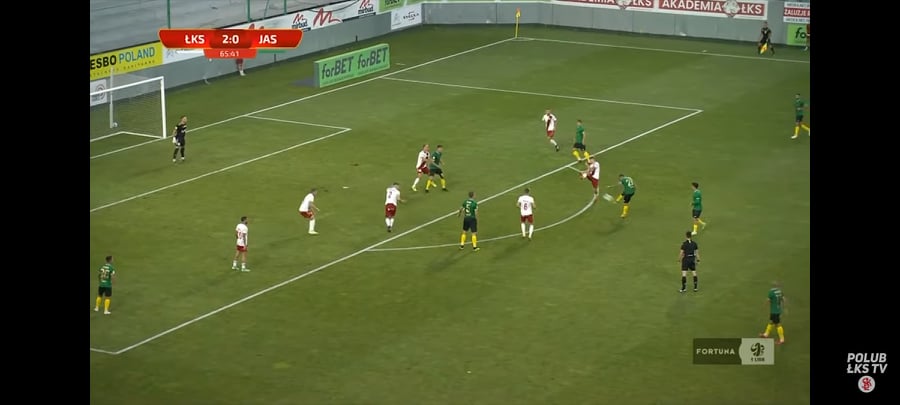 Druga bramka Jastrzębia
Drugą bramkę dla Jastrzębia trzeba w całości zapisać na konto Adriana Klimczaka. Lewy obrońca najpierw popełnił błąd przy wyprowadzaniu piłki, a później zatrzymuje zawodnika GKS-u, dając pretekst sędziemu do podyktowania rzutu karnego. Dawid Witkowski z 11 metrów nie dał szans bramkarzowi.
Korona Kielce – ŁKS 1:0
Kolejna bramka, która nie powinna wpaść. ŁKS kompletnie nie radzi sobie, kiedy przeciwnik dośrodkowuje w pole karne.
Piłkarz Korony wrzuca piłkę w pole karne do niepilnowanego kolegi.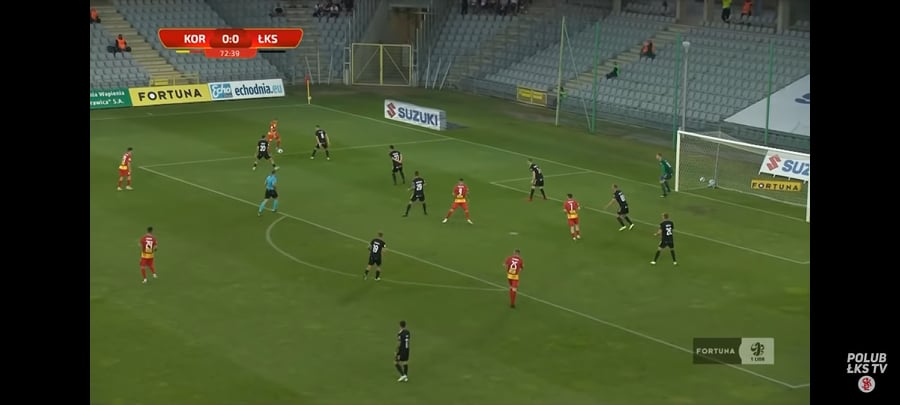 Dwóch obrońców nie jest w stanie odebrać piłki Szymusikowi, który ma czas, żeby ją przyjąć i przygotować się do zagrania.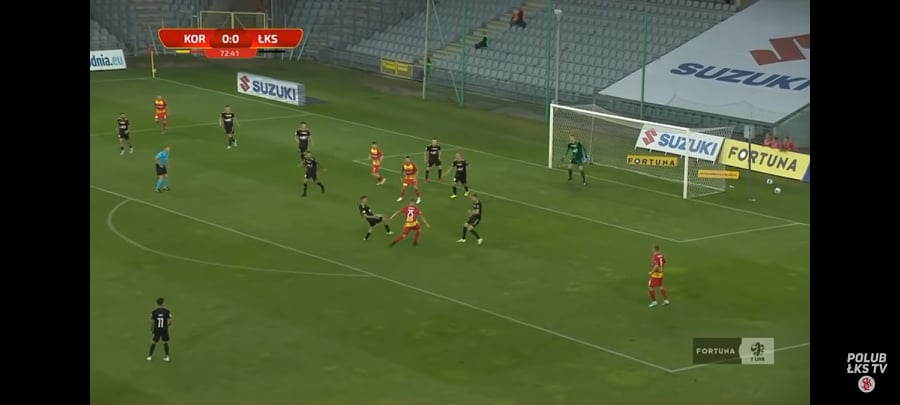 Szymusik uderza, piłka odbija się od Kozioła.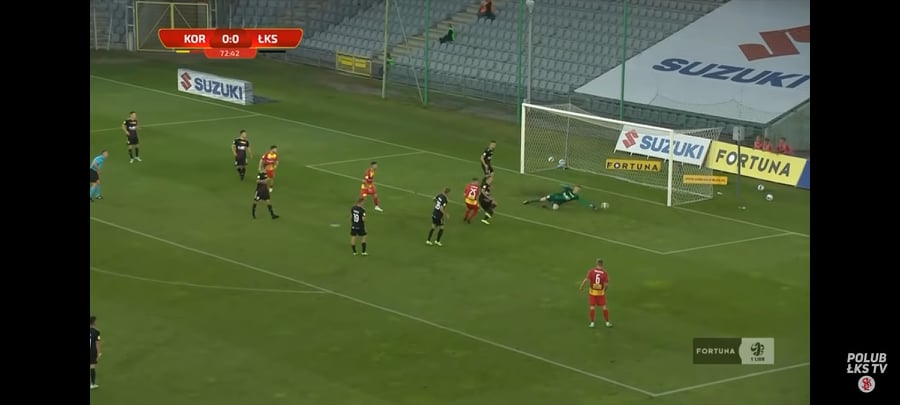 Żaden z zawodników ŁKS-u nie jest w stanie wybić piłki z pola karnego. Szymusik dobiega i dobija do bramki (0:1).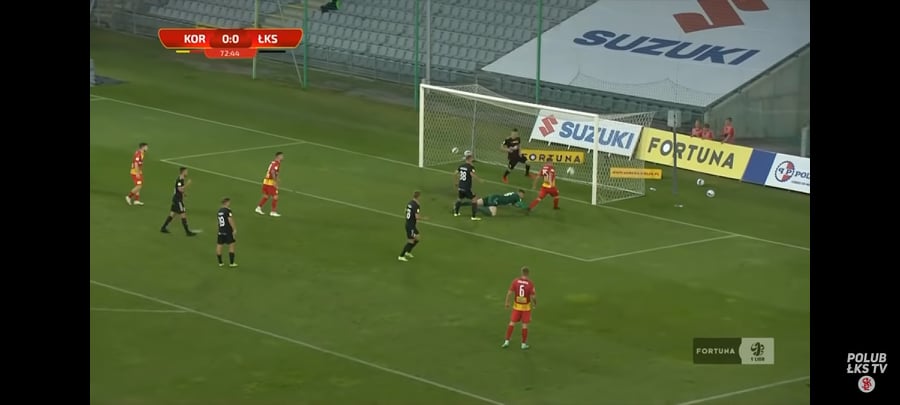 ŁKS – Resovia 0:3
Pierwszą bramkę ŁKS stracił po stałym fragmencie. Maciej Wolski nie był w stanie upilnować wyższego i silniejszego zawodnika Resovii, który zamykał akcję (kłania się niska średnia wzrostu, bo Wolski ma 176 cm, a Grzegorz Komor – 190 cm).
Jak widać Wolski od początku jest spóźniony. Próbuje złapać za koszulkę piłkarza drużyny z Rzeszowa, więc nawet gdyby nie padała bramka, mógł sprokurować rzut karny.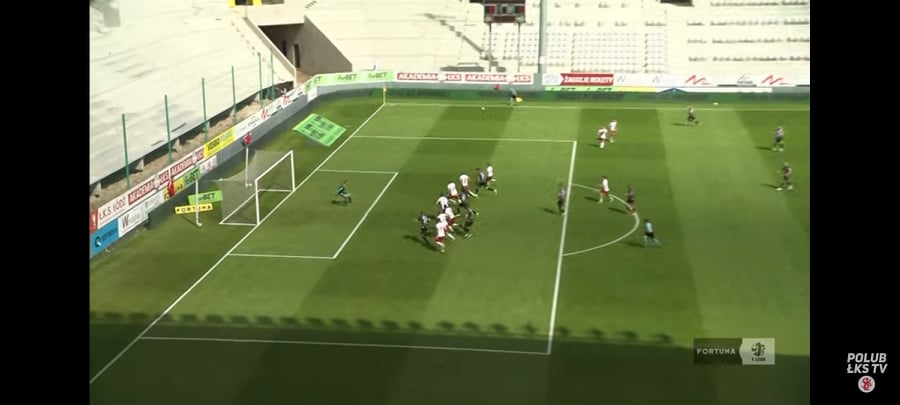 Komor uwolnił się od obrońcy ŁKS-u i spokojnie wykończył akcję. Należy się zastanowić, czy Wolski powinien pilnować dalszego słupka, skoro w zespole są piłkarze wyżsi od niego.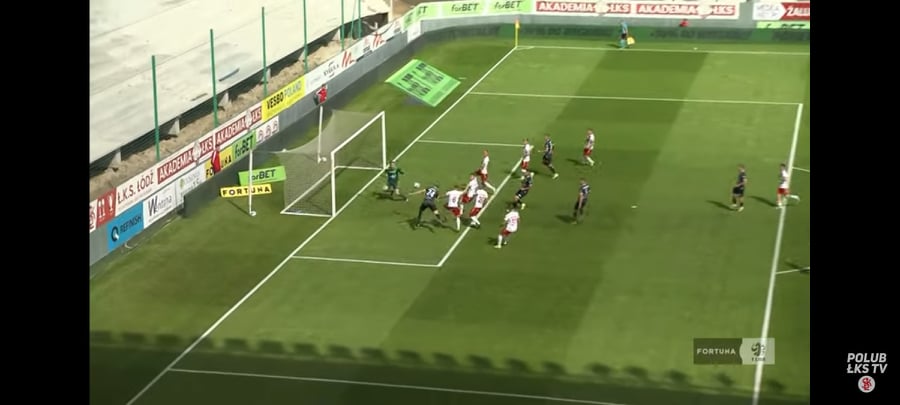 Druga bramka Resovii
Druga bramka dla Resovii pokazuje, że ŁKS-owi wystarczy wstrzelić piłkę w pole karne, a stoperzy sami zatroszczą się o to, żeby napastnik mógł dojść do dogodnej sytuacji.
Wszystko co złe zaczęło się od nieudanej próby przecięcia piłki przez Maksymiliana Rozwandowicza. Kapitan ŁKS-u miał dużo czasu żeby odpowiedni się ustawić, ale koniec końców wykonał dość dziwną figurę akrobatyczną i minął się z piłką.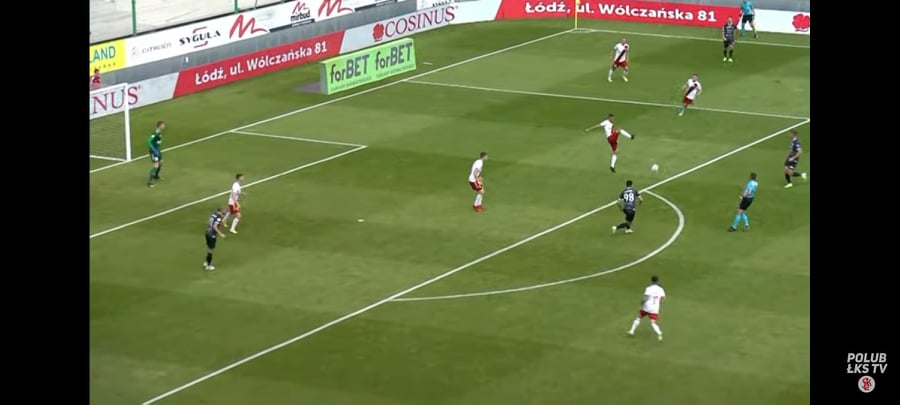 Jan Sobociński i Bartosz Szeliga próbowali odebrać piłkę leżącemu na ziemi zawodnikowi Resovii. Powalnemu na murawę piłkarzowi drużyny z Podkarpackiego udało się podać ją do Hilbrychta.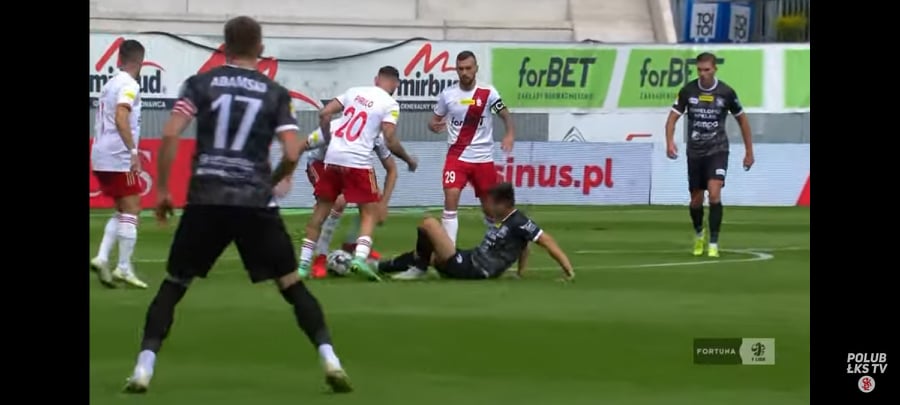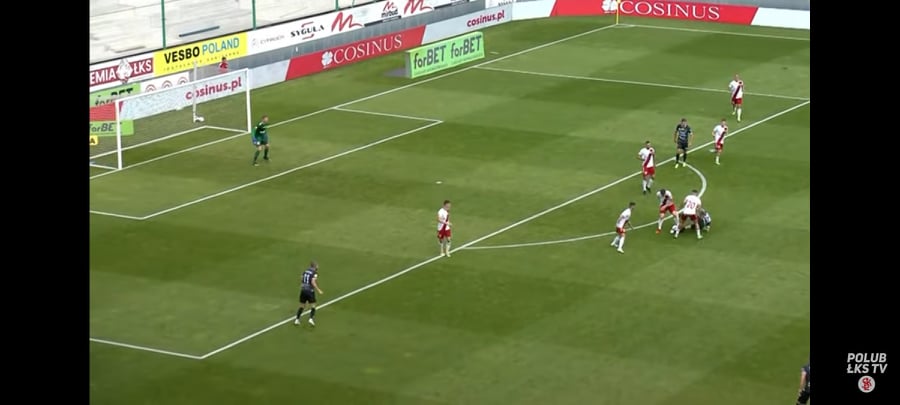 Do napastnika próbuje podbiec spóźniony Maciej Wolski, który stara się jeszcze naprawić błędy, które popełnili jego koledzy z drużyny. Niestety odbija się od Hilbrychta, zawodnik Resovii wychodzi sam na sam i umieszcza piłkę w bramce.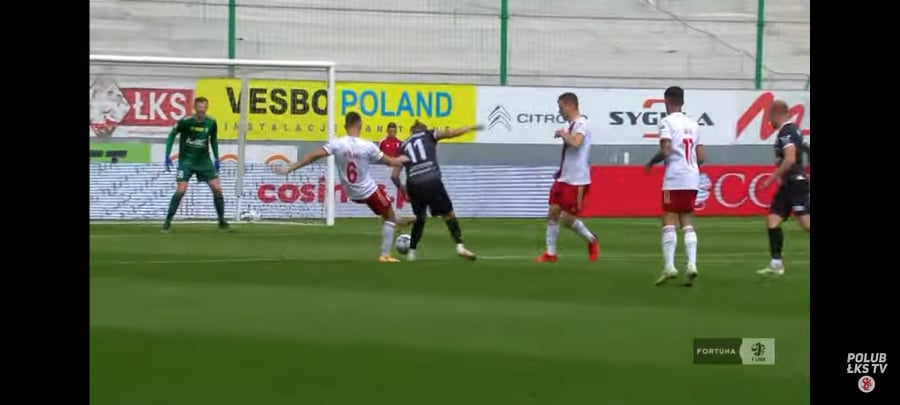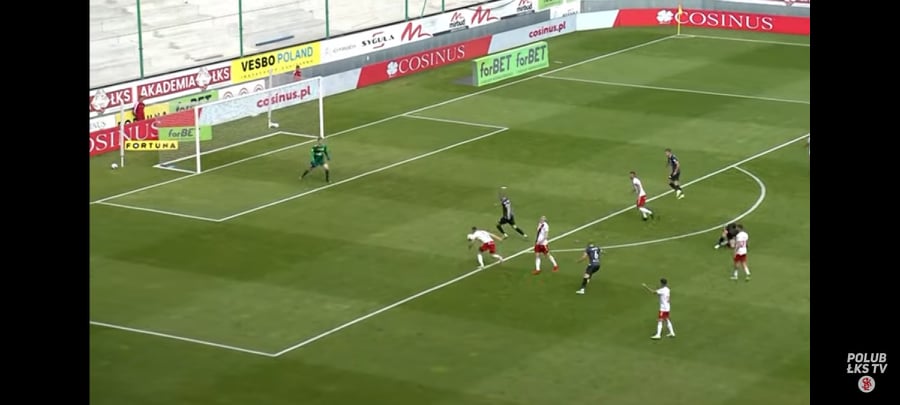 Trzeci gol dla Resovii
Znowu nieporozumienie między Szeligą i Sobocińskim kosztowało ŁKS stratę bramki. Ten drugi nabił piłką pierwszego i niepilnowany Hilbrycht mógł spokojnie przymierzyć do siatki.
Szeglia wyprzedza skrzydłowego Resovii, wydaje się że sytuacja jest opanowana.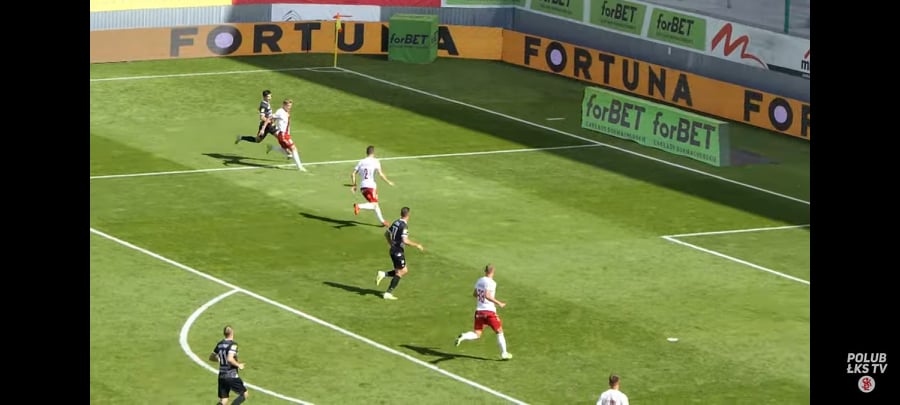 Asekurujący Szeligę, Sobociński nie zatrzymuje się i wpada w swojego kolegę.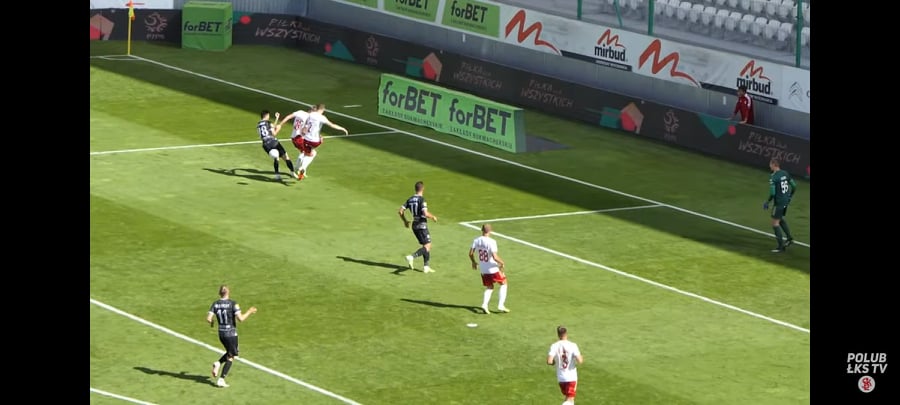 Hilbrycht, który na poprzednim obrazku stał na skraju pola karnego, truchtem rusza do piłki, jakby nie wierzył w swoje szczęście. Do piłki zbiera się też Adam Marciniak.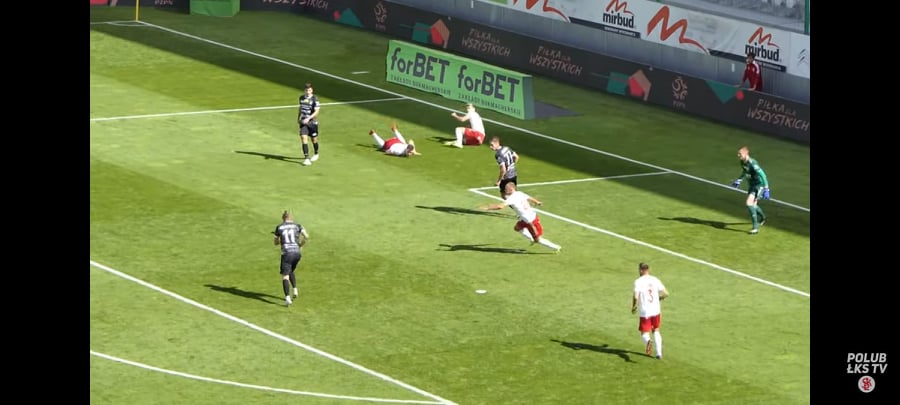 Marciniak rozpaczliwie stara się zasłonić bramkę, napastnik Reosvii zdobywa trzecią bramkę.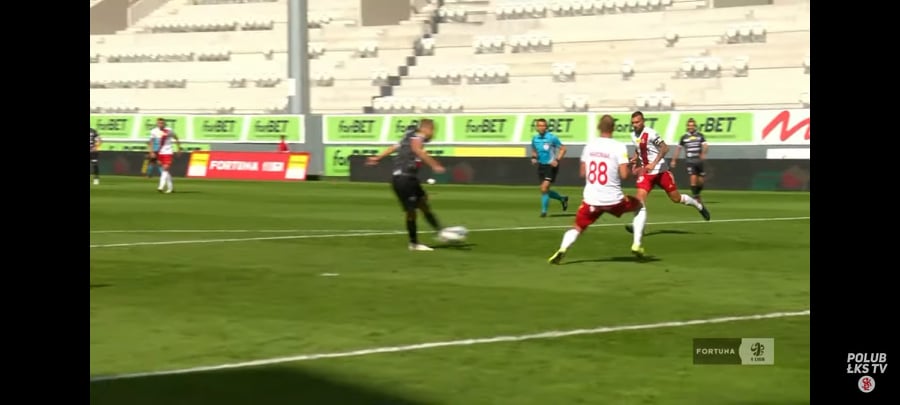 Statystki
Bramki stracone po stałych fragmentach gry – 4 z 9, 44 proc.
Bramki strzelone przy lewym słupku – 4 z 9, 44 proc.
Bramki strzelone przy prawym słupku – 5 z 9 55 proc.
Bramki strzelone głową – 2 z 9, 22 proc.
Bramki strzelone z dystansu – 2 z 9, 22 proc.
Dośrodkowania/akcje prawym skrzydłem zamienione na bramki – 5 z 9, 55 proc.
Dośrodkowania z lewego skrzydła zamienione na bramki – 4 z 9, 44 proc.
Piłkarz dobijał/miał przed sobą pustą bramkę/wychodził sam na sam – 3 z 9, 33 proc.
Rzuty karne – 1 z 9, 11 proc.
Najwięcej błędów popełnili
Adam Marciniak – pięć błędów (Tychy, Skra, Korona, dwie bramki Resovia)
Maksymilian Rozwandowicz – cztery błędy ( Tychy, Skra, Jastrzębie, Resovia)
Bartosz Szeliga – trzy błędy ( dwie bramki z Resovią, Korona)
Maciej Wolski – trzy błędy (Skra, dwie bramki z Resovią)
Jan Sobociński – dwa błędy (dwie bramki z Resovią)
Adrian Klimczak – jeden błąd (Jastrzębie)
Marek Kozioł – jeden błąd ( Tychy)
Jakie wnioski możemy wyciągnąć?
ŁKS nie potrafi bronić przy stałych fragmentach gry. Każdy rzut rożny, wstrzelenie piłki z rzutu wolnego, albo dośrodkowanie kończy się groźną sytuacją dla przeciwników. Problemem jest też komunikacja, której między obrońcami zdecydowanie brakuje. Niektórym, tak jak Marciniakowi, brakuje motoryki. Doświadczony wychowanek klubu często nie nadąża za rywalami.
Podopieczni Kibu Vicuny, często błąd próbują "naprawić" błędem. Klimczak źle wyprowadził piłkę, po czym ratował się faulem. Analizując kadr po kadrze stracone bramki, nie sposób nie dojść do wniosku, że najgroźniejszym przeciwnikiem łodzian, są ich obrońcy i niezrozumiałe zachowania pod swoją bramką. Jeśli szybko nie zostanie to poprawione, rozczarowań będzie więcej, bo ŁKS-owi łatwo się strzela gole.
Wszystkie obrazki i filmy pochodzą z kanału YouTube ŁKS-u Łódź: https://www.youtube.com/c/ŁKSTV1908